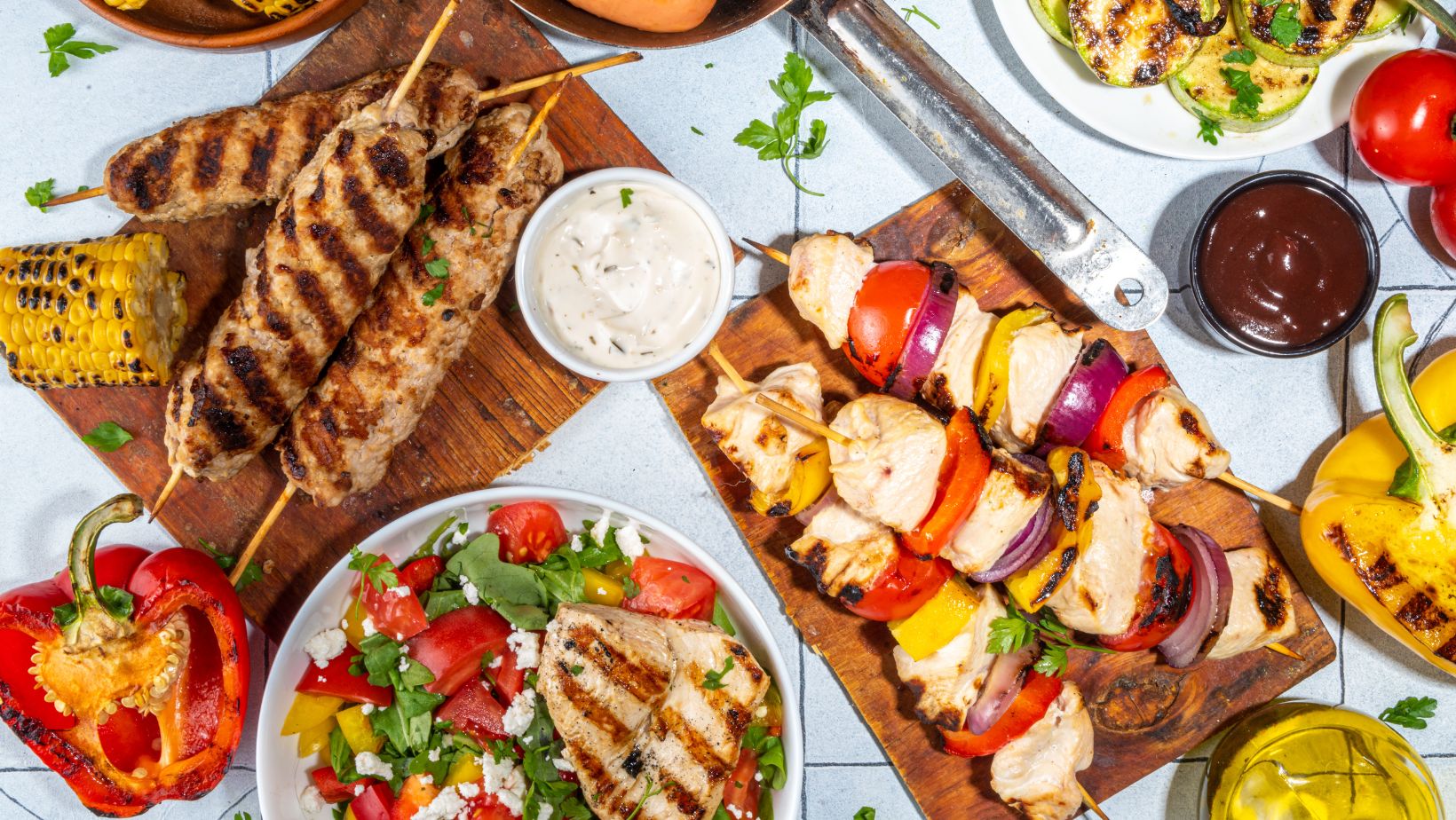 12 May

5 Healthy BBQ Swaps

Looking for some healthy BBQ swaps that are flavourful and fun? Look no further.

Getting together for an alfresco meal with your friends and family is a wonderful way to celebrate summer. BBQs can be a healthy treat and need not compromise your health with burnt meat and ultra processed carbs. Here, we've put together five of the foods to avoid at your next alfresco cook-up, and some healthy, delicious alternatives
SWAP: BURNT AND PROCESSED MEAT
Say no to processed sausages that are black on the outside and pink on the inside at your next BBQ. Instead, swap them for fish skewers made with monkfish (a source of selenium), wild salmon (rich in omega 3 fatty acids) and prawns. Layer with antioxidant rich vegetables like bell peppers and red onions. Organic meats also work well on skewers. If you've got vegetarian or vegan guests attending, try marinated tofu and vegetable skewers.
TRY THIS:
SWAP: HIGH GI CARBS LIKE RICE AND PASTA SALAD
Replace your pasta and rice salads for lighter, more nutrient dense salads. Try a tomato, avocado and fresh basil salad dressed with olive oil. Dark green leafy salad leaves like watercress, rocket and spinach are more tasty than lighter coloured leaves and they're rich in a variety of beneficial nutrients too. Leftover roasted Mediterranean vegetables are also a delicious addition to salads. Cauliflower taboule is a great low carb alternative to rice salads.
TRY THIS:
Tomato and shallot salad and this cauliflower taboule recipe
SWAP: WHITE BREAD ROLLS
Ditch buttery brioche rolls. Instead, serve your organic meat in a keto bun or wrap. If you're keen to include some healthy carbs at your BBQ, quinoa makes a great base for BBQ salads, and is a source of protein, iron and potassium. This Peruvian quinoa salad is flavourful and suitable for vegans.
TRY THIS:
SWAP: PROCESSED ICE CREAM
Instead of large scoop of high sugar ice cream for dessert, try making your own healthy version. It's easy to make using frozen banana slices blended with nut butter and almond milk. Just as tasty and refreshing as the original version. Alternatively, coat some pineapple slices in cinnamon before roasting them on the grill.
TRY THIS:
This banana and peanut butter nice cream recipe
SWAP: FIZZY DRINKS
Rather than keeping guests hydrated with bottles of caffeinated fizzy drinks or artificially flavoured water, make pitchers of infused water instead. Lemon, mint, raspberry and cucumber work well. Or why not try a healthy homemade iced tea? T2 has a variety of flavours that work perfectly. If you're looking for a gift to take along to a friend's BBQ, consider taking a box with you instead of a bottle of something alcoholic.
TRY THIS:
If you're playing host this summer, make sure these healthy BBQ swaps are on your menu. Or RSVP to your next BBQ invite with an offer to bring along a couple of dishes.
.