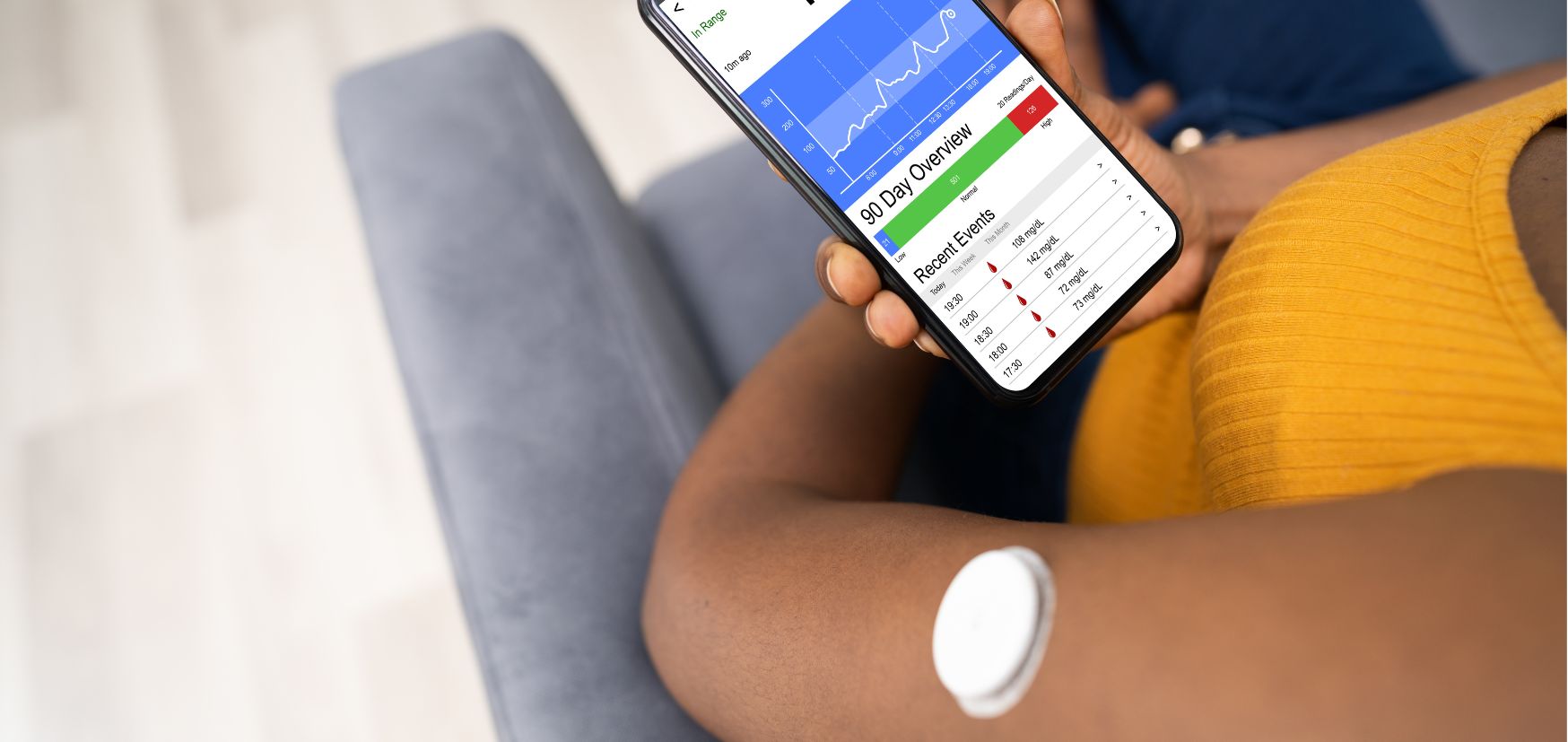 17 Jul

A Guide To Continuous Glucose Monitoring (CGM) For Weight Loss 

A Continuous Glucose Monitor (CGM) can provide valuable insights to support your weight loss. So what is a CGM? How do they work? And how can you use one to help you successfully lose weight? Here's what you need to know about continuous glucose monitoring for weight loss.
WHAT IS CONTINUOUS GLUCOSE MONITORING?
A continuous glucose monitor or CGM is a device that constantly monitors and records your blood sugar levels. This is the amount of simple sugar (glucose) circulating in your blood stream. The small sensor is attached to the back of your upper arm and a reading can be taken using your phone, which is typically connected to the sensor via an app, at any time.
Diabetics use blood sugar monitors to manage their sugar levels and ensure they're managing their diabetes as well as possible. However, maintaining stable glucose levels is beneficial for everyone who wishes to maintain good health and manage their weight.
Historically, monitoring your blood sugar meant using a finger prick device and having to prick your finger to take a small blood sample every time you wanted to test your blood sugar. However, the advent of continuous glucose monitors means that this is no longer necessary. CGMs are making blood glucose monitoring easier than ever.
WHAT CAN A CGM TELL ME?
A CGM can help you get clear on the factors that affect your blood sugar levels. One of the main factors that impacts our blood sugar level is the food we eat. A CGM will help you get clear on how your diet is impacting your blood sugar levels.
Certain foods will cause a rapid rise in blood sugar levels, followed by a sharp drop. This is not supportive of optimal health, stable energy levels or weight loss. Other foods cause a slower more stable rise in blood sugar and provide more sustained energy. Basing our diet around these foods supports our health, wellbeing and weight management.
A CGM will help you get clear on how different foods and food combinations impact your blood sugar levels so that you can minimise those that cause spikes and dips, and focus on those that provide sustained energy.
Factors other than food also impact our blood sugar levels. These include:
Stress / anxiety
Quality and quantity of sleep
Hydration
Physical exercise
Using a CGM for a period of time gives you a clear insight into the factors that positively and negatively impact your blood sugar. You can use this information to adapt how you eat and live in order to support stable blood sugar levels.
HOW DO CGMS WORK?
There are a number CGM devices available on the market today. A sensor needs to be attached to you, typically on the outside of your upper arm or on your abdomen. The sensors are sticky to ensure they stay secured. The sensor tracks your glucose levels throughout the day. The most popular CGMs have sensors you can remove yourself at home every seven to 14 days. Some long-term CGMs require having the sensor replaced by your doctor but these are typically devices used to managing diabetes, rather than for supporting weight loss and general health.
All CGMs have wireless transmitters attached to sensors that send readings to a device, such as a phone or computer.
Whether you're sleeping, working, eating, showering or exercising, your CGM device is always recording your glucose levels.
HOW CAN A CGM HELP SUPPORT WEIGHT LOSS?
Blood sugar regulation is an important part of healthy weight loss. When we eat a diet high in sugar and starchy carbohydrates, this leads to continuous peaks and dips in our blood sugar. When our blood sugar is elevated, insulin is released to carry sugar into cells and bring our blood sugar back into an optimal range. This sugar can be stored as glycogen in our liver and muscle cells. When these stores are full, the sugar in our blood stream is covered to fat to be stored for later use. This results in weight gain.
Maintaining a stable blood sugar level will supply your body with consistent energy and help prevent fluctuations which lead to fluctuating energy, hunger, cravings and weight gain.
Using a CGM you can observe the effects of different foods on your blood sugar levels and adjust your diet to keep your blood sugar stable. Regulating and reducing your blood sugar level will in turn encourage your body to turn to burning stored fat for energy.
WHAT TO AIM FOR WHEN MONITORING BLOOD SUGAR
The below chart from Diabetes UK outlines optimal ranges to aim for when monitoring your blood sugar levels:

Your optimal blood glucose targets may vary depending on your age and state of health.
WHAT IS THE BEST CGM FOR WEIGHT LOSS?
FreeStyle Libre is one of the most popular and widely available continuous glucose monitors used for weight loss. The FreeStyle Libre Sensor costs around £60.00.
Dexcom is another popular CGM brand with three different devices available.
If you're diabetic and looking to monitor your glucose levels in order to best manage your condition, it's advisable to discuss continuous glucose monitoring with your medical practitioner.
A COMPREHENSIVE APPROACH TO WEIGHT LOSS
A CGM can provide valuable insights that will support your weight loss. However, a more comprehensive solution is usually required in order to achieve long term weight loss success.
We are a team of qualified nutritionists who specialise in weight loss. We can support you in overcoming your weight challenges, achieving your desired weight and maintaining it long term. You can use this link to book in for a complimentary call today. This is an opportunity to talk through your challenges with a qualified nutritionist and decide together whether one of our Intelligent Weight Loss programmes is right for you. Or contact us to request a copy of our brochure and we will get back to you soon.
Sign up for Kim's weekly weight loss and wellness newsletter to receive the latest news, expert tips and advice direct to your inbox.