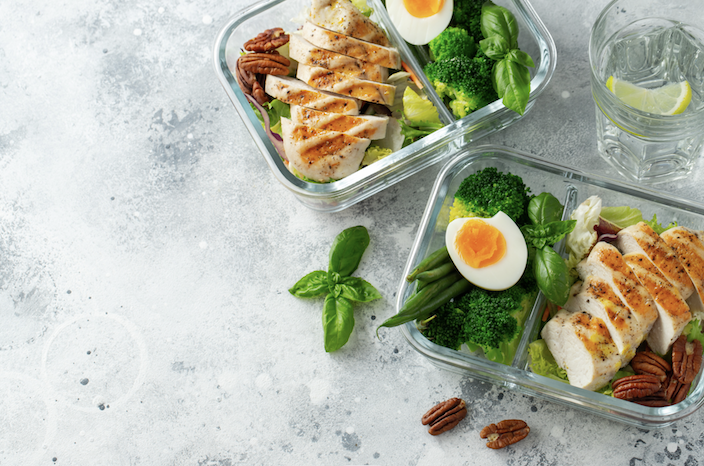 15 Oct

How To Structure Balanced Meals

Knowing how to structure balanced meals is key for anyone looking to lose weight and achieve good metabolic health. We hear it all the time, don't we? "Eat a healthy balanced diet" "Make sure your meals are well balanced". It sounds sensible, but what does it actually mean? And how can you make sure your meals are nutritionally balanced in order to support your weight loss efforts?
WHAT ISN'T BALANCED
'The Eatwell Guide' (formerly The Eatwell Plate) provides official guidance on what a balanced diet should look like. It is far from perfect. Nutrition and obesity researched Zoe Harcombe refers to it as the Eatbadly Plate. In this article she details the lack of evidence for their recommendations and here she details the conflicts of interest and corporations that have likely influenced these recommendations. Sadly, this official guidance is not aligned with what we, and many other nutritionists, believe to be optimal.
The Eatwell Guide encourages us to 'base meals on potatoes, bread, rice, pasta or other starchy carbohydrates'. The truth is that basing our diets on starchy carbs as well as too much ultra processed foods and sugar is what's driving our skyrocketing rates of obesity. It's not optimal from a weight management or health optimisation perspective.
A BALANCED PLATE
We have established that basing meals around starchy carbohydrates is not optimal, so what do we eat instead? To keep it really simple, here are three key ingredients required for a balanced meal:
1. Protein – organic meat, wild fish, seafood, eggs, tofu, tempeh.
2. Healthy fats – sources like olive oil, coconut oil, coconut milk, avocado, seeds, nuts.*
3. Vegetables – pretty self explanatory. We advise our clients to aim for at least three servings of different coloured veg per meal. If they're seasonal and organic, even better.
*Oily fish and quality, traditionally reared meats also provide good sources of fat as well as protein. Nuts and seeds provide some protein as well as fats. The above are categorised based on the most predominant macronutrient.
The list of examples is not exhaustive and how much of each of these three components is required will vary from one person to the next. A 6ft 3in rugby player will have different nutritional requirements compared with a petite 5ft female, but they both need protein, fat, fibre and micronutrients.
Here is a helpful infographic and a good alternative to the Eatwell Guide created by our profession's governing body, BANT. While this is a good basic guide to work with, nutritional needs vary from one person to the next. Take the carbohydrates segment as an example. Someone who isn't especially sensitive to carbohydrates, is maintaining a weight they are happy at and exercising frequently may tolerate more carbohydrates. Someone who is carbohydrate sensitive, is working on losing weight or who is less active would do better reducing their intake or even cutting them out altogether. This is where personalised nutrition comes in. There is no one size fits all.
Working with a qualified nutritionist will enable you to find the diet that's right for you. If you'd like to find out more about personalised weight loss with Kim Pearson and team, you can book a complimentary call here.
WHY EAT BALANCED MEALS?
Eating nutritionally balanced meals will provide your body with the macro and micronutrients it needs to function optimally.
Provided your portion sizes are optimal, structuring your meals around protein, healthy fats and vegetables should fill you up and keep you satisfied. This combination of foods breaks down slowly which results in stable blood sugar levels and a sustained release of energy.
This is very different to meals based on starchy carbohydrates like cereals, bread, rice and pasta. These foods are rapidly broken down by the body and used up quickly, leaving you feeling hungry and cravings a snack not long after.
HOW DO I MAKE BALANCED MEALS TASTE GOOD?
For illustration purposes, above we have used a photo that clearly show these three components in a meal. However, your meal can combine these components in many different forms. Stews, curries, roasts. A fillet of wild salmon (protein) with roasted Mediterranean vegetables (veg) topped with home made pesto (olive oil for fat). Organic meatballs (protein) in a tomato, onion and pepper sauce served on a bed of courgetti (veg) coated in olive oil (fat). And it's not just for savoury meals either. Here's how to apply that formula to smoothie making. The balanced meals formula might be simple but it can be applied in many different ways.
WHAT'S BALANCED FOR YOU?
Understanding how to structure your diet to optimise your health and weight can be a minefield. Here we telling you that we, as qualified nutritionists with decades of clinical experience, do not agree with government advice. That's before we get onto all of the other messages we see in advertisements, marketing, in the media and on social media. It's no wonder we are confused.
WORK WITH US
Our clients are educated, intelligent individuals. They know it's healthier to choose a salad over a pizza. But often what they need from us is a clear dietary strategy, tailored to their nutritional needs, their goals and their lifestyle. They need clarity on what a healthy balanced diet looks like for them. If you feel that's something you could benefit from, we'd love to hear from you. You can use this link to schedule a complimentary call or contact us and a member of our team will be in touch with you to organise a convenient time for your call. If it's time you got clarity on what a balanced diet looks like for you, we can help.