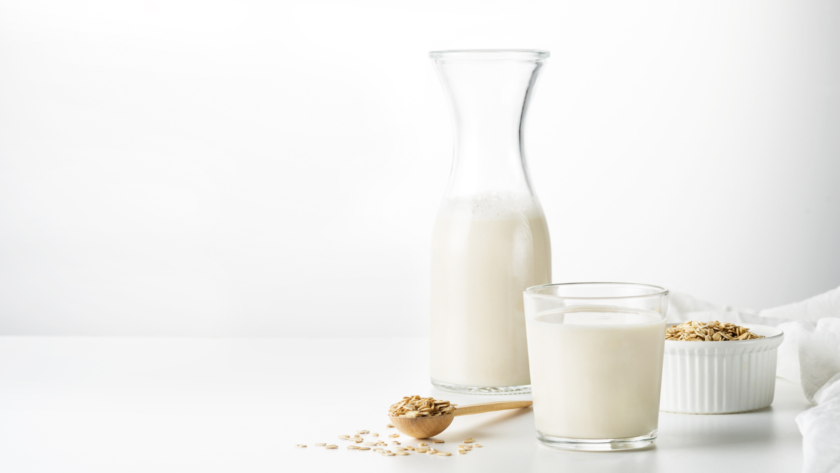 24 Feb

Is Oat Milk Good For You?

Oat milk is now more popular than ever and has become the plant milk of choice for many. But how healthy is it really?

More and more of us are turning away from dairy and choosing plant-based milk alternatives. Oat milk tastes great, is naturally sweet and widely available. Many coffee shops and restaurants now offer oat as their main non-dairy option, and more and more of us are starting our day with an oat latte. But is oat milk healthier than dairy milk? How much sugar is there in oat milk? The truth about the nation's favourite 'health drink' may not be as clear cut as you might think.

There are two main issues with most widely available oat milks…
OAT MILK IS ULTRA PROCESSED
Most oat milks contain a fairly long list of ingredients, some of which you'd probably be surprised to discover. As well as oats and water, many brands also contain thickeners, stabilisers and even oil. Alpro's oat milk, for example, contains sunflower oil. Sunflower oil is an inflammatory omega 6 fat. Most of us consume far too much omega 6 and nowhere near enough omega 3 which increases inflammation in the body and therefore increases our disease risk and ageing processes. Ultra processed foods (and in this case, drinks) are the biggest contributors to our intake.
This isn't just the case for oat. Many other non-dairy milks are the same. Alpro is one of the most widely available brands but most of their products are highly processed and we never recommend them. The second issue with it is the potential content.
HOW MUCH SUGAR IS IN OAT MILK?
Oat milk tastes sweet and delicious for a reason. Most don't contain added sugar because oats contain naturally occurring sugars. Whether naturally occurring or added, however, sugar is sugar. Oat milk typically contains around 3.5g of sugar per 100ml. For context, there are 4g sugar in a teaspoon. A Pret oat latte contains 9.9g sugar which is equivalent to two and a half teaspoons. A grande Starbucks oat latte comes in at 12g (four teaspoons). There are many health conscious people who wouldn't dream of scooping spoonfuls of sugar into their morning coffees, but many are drinking it unknowingly in their morning lattes.
WHAT IS A HEALTHIER MILK ALTERNATIVE?
Whichever brand you buy, there's no avoiding that oat milk contains sugar. If you're looking to lose weight and optimise your health, the less sugar you consume, the better. If you want to keep your sugar intake to a minimum then choosing a nut-based milk is a better option. Here's our article on the dairy free milk alternatives: A Guide To The Best Dairy Free Milks.
However, if you're not ready to give up your oat latte, Plenish's Oat M*lk and Oatly Organic Oat Milk are the best, widely available ones we've found.
SO, IS OAT MILK GOOD FOR YOU?
Oat milk is not good for you in comparison to other non-dairy alternatives. It's high in sugar and most brands are ultra processed, containing additives that are not supportive for optimal health. If you do decide to drink oat milk, choose a high quality, additive-free brand. Drink it in moderate amounts and have it alongside food to slow the release of sugars into the bloodstream.
RECEIVE FREE WEEKLY HEALTH UPDATES
This article was originally shared to our database of subscribers. You can sign up to Kim's newsletter here for free and receive weekly health, wellbeing and weight loss updates direct to your inbox. Schedule a complimentary 25-minute call with us and find out how we can support you on your journey to lose weight and/or improve your health.