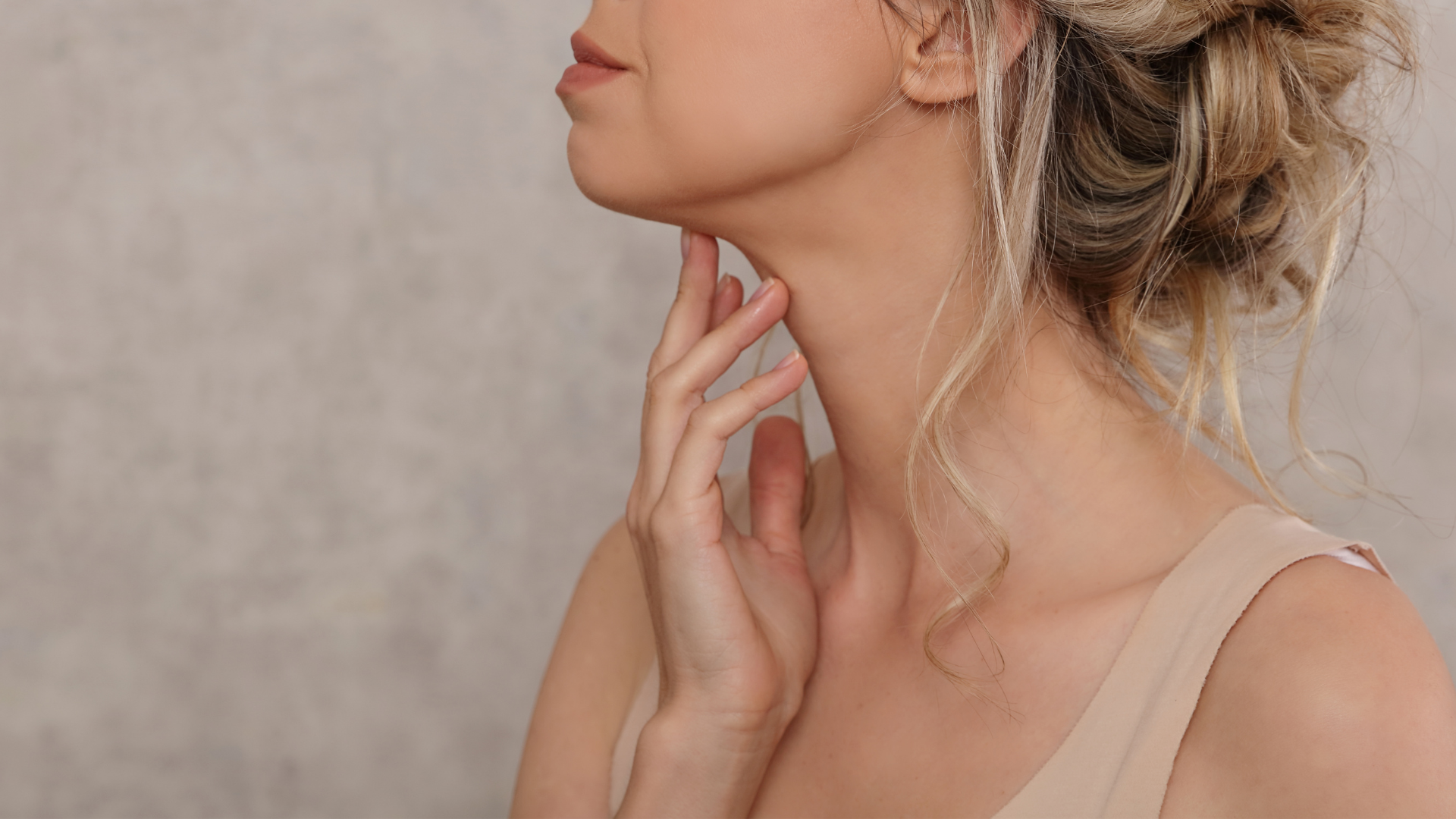 23 Aug

How To Tackle Underactive Thyroid Weight Gain

Are you struggling with underactive thyroid weight gain? Failing to lose weight despite eating a healthy diet and exercising regularly can be frustrating and upsetting. Often, people with an underactive thyroid need to take a more sophisticated approach to managing their weight than simply reducing their calories.

As a team of nutritionists who specialise in weight loss, we support a lot of clients with underactive thyroid. The good news is, it is possible to regain control of your weight and your health. Here, we'll share with you everything you need to know about underactive thyroid (also known as hypothyroidism) and addressing with the weight gain that often comes with it.

If you'd like to work with a qualified weight loss to lose weight in a healthy and effective way, despite having an underachieve thyroid, we experts can help. Book in for a complimentary call today to find out more.
WHAT IS UNDERACTIVE THYROID WEIGHT GAIN?
Hypo means 'low', so hypothyroidism relates to slow, or underactive thyroid function. It is a condition that occurs when the thyroid gland malfunctions, one of the consequences of which is the slowing of the body's metabolism which can result in weight gain. If you're looking to address underactive thyroid weight gain, there are several things you can do. But first, developing a deeper understanding of the condition can be helpful.
UNDERSTANDING THYROID CONDITIONS
WHAT IS HYPERTHYROIDISM?
Unlike hypothyroidism, hyperthyroidism is a condition where the thyroid gland produces too many hormones. This typically leads to weight loss. It can also cause difficulty sleeping, nervousness, and anxiety. In some cases, it can also cause heart palpitations, tremors, and sweating. These symptoms can also be experienced by people with an underactive thyroid when they are given a dose of thyroid medication that's too high for them.
WHAT IS HYPOTHYROIDISM?
Hypothyroidism is a condition where the thyroid gland produces insufficient hormones, leading to a slower metabolism. Diagnosis involves a blood tests to measure hormone levels. It's a common condition experienced mostly by women, however men can develop it too. The symptoms of underactive thyroid can significantly impact your quality of life. Below, we'll take a look at some of the most common symptoms but it's important to remember that while there are commonalities, everyone is different so you can have an underactive thyroid and not experience all of these symptoms.
WHAT ARE THE SYMPTOMS OF AN UNDERACTIVE THYROID?
In addition to weight gain an underactive thyroid can also be linked with several other symptoms. Symptoms may include fatigue, weight gain, sensitivity to the cold, dry skin, hair loss, constipation and muscle weakness. In some cases, it can also lead to depression, mood changes, and difficulty concentrating. If you're experiencing any of these symptoms, it's worth getting a comprehensive thyroid test. We offer an advanced thyroid test as part of our test offering.
HOW DO YOU TREAT UNDERACTIVE THYROID WEIGHT GAIN?
If you find out that you have an underactive thyroid, the first step is to visit your GP. Hypothyroidism is typically managed by doctors with a synthetic form of T4 thyroid hormone medication, known as levothyroxine. This replaces one thyroid hormone that is sometimes low in those with underachieve thyroid. While this can work for some people, for others it doesn't provide a comprehensive enough solution to effectively manage their underactive thyroid weight gain.
At our clinic, we support our hypothyroid clients in optimising their diet and lifestyle to help manage their weight successfully. Our clients with hypothyroidism often have different nutritional requirements to those who don't. Applying strategies tailored to your unique needs and health status is key.
It's important to ensure that your body is getting optimal amounts of the nutrients it needs to produce thyroid hormones and support thyroid function. Low levels of certain nutrients can compromise the thyroid's ability to produce thyroid hormones, or convert inactive T4 to active T3. We work with our clients to ensure their diet and supplements protocol provides all of the nutrients their thyroid needs.
Sometimes, underactive thyroid can be cause by an autoimmune condition known as Hashimotos. Specific dietary strategies can be taken to help manage autoimmune conditions. A tailored autoimmune paleo protocol (AIP) along with optimisation of gut health can be very supportive for people with autoimmune hypothyroidism.
Working with a nutritionist who understands hypothyroidism from a functional health perspective can help you manage your health and weight in a more holistic and often, more effective way.
WHAT FOODS CAN COMBAT UNDERACTIVE THYROID WEIGHT GAIN?
Certain foods can help to support thyroid health and improve your metabolism, while others will promote weight gain.
Eating a diet focussed on whole foods, including nutrient dense vegetables, healthy fats, lean proteins and moderate amounts of low glycemic carbohydrates will help you manage underachieve thyroid weight gain. Here's our guide to how to structure a balanced meal to support weight loss. In terms of what to avoid, minimise your intake of high sugar foods, refined and starchy carbohydrates, and ultra processed foods. (Here's how to spot an ultra processed food).
Specific foods will provide your body with the raw materials it needs to produce vital thyroid hormones. Low levels can compromise thyroid hormone production. For example, foods that are high in iodine, such as fish and seaweed, can help support thyroid function as iodine is required for optimal thyroid function.
On the other hand, some foods may negatively impact thyroid function. Soy products, for example, contain compounds that can interfere with thyroid hormone production, so working with a nutritionist to determine the foods to include or rule out of your diet can help to minimise hypothyroidism-related weight gain.
THE BENEFITS OF REGULAR EXERCISE
Along with dietary considerations, exercise can increase your metabolism, help regulate hormones, and support weight loss. They key is finding an exercise that works for you and ideally, that you enjoy. This will help ensure you stick to it on a consistent basis. If you're new to exercise, start by aiming for around 30 minutes of moderate exercise every day, such as brisk walking or cycling. YouTube is full of different workouts that you can do at home without the need for a gym membership. If you feel as though you could benefit from expert guidance and accountability, seek the help of a qualified, experienced personal trainer. While exercise is beneficial, it's important to note that excessive exercise is not recommended. Overtraining causes the body stress, which can exacerbate hormonal imbalances and can further suppress thyroid function.
THE IMPACT OF STRESS ON UNDERACTIVE THYROID WEIGHT GAIN
Consistently elevated levels of the stress hormone cortisol can inhibit thyroid function and potentially worsen the symptoms of underachieve thyroid. You can read more about how stress is linked to weight gain here. Practices like meditation, yoga, and deep breathing can all be helpful in managing stress levels. There are also supplements that can help to manage stress although you should speak to your doctor if you are on medication before adding new supplements into your routine.
SUPPLEMENTING TO SUPPORT THYROID HEALTH
Certain nutrients are vital for thyroid health and function. Low levels of these nutrients have been shown to suppress thyroid function and deficiencies can be surprisingly common. Supplementing these nutrients can help to ensure you're getting enough, though it's important not to take too many. This is another reason why seeking help from a qualified nutritionist to help optimise your health and lose weight is so beneficial.
Nutrients required for thyroid function include iodine, selenium, zinc, vitamin A, B vitamins and vitamin D. Vitamin D deficiency is extremely prevalent and the government recommends that we all supplement it during autumn and winter months.
If you are taking medication, always speak to your doctor before taking supplements so that they can ensure any supplements you take won't interfere with medications you are on. Some common thyroid medications, like levothyroxine, should always be taken away from food, drink and supplements.
WORK WITH US
We are a team of qualified nutritionists who specialise in weight loss. We consult clients in London and internationally via our virtual consulting room. Many of our clients have struggled to lose weight in the past due to health challenges like an underactive thyroid, or hormonal changes caused by the menopause. If you've been struggling, we can help you overcome your weight and health challenges, reach your desired weight, and maintain it long term.
Our Intelligent Weight Loss Method ensures you're comprehensively supported in reaching your goal weight and maintaining it for good. If you'd like to explore how we can help you, please book in for a complimentary call to find out more.